Red Giant Entertainment Expands Presence at San Diego Comic-Con 2013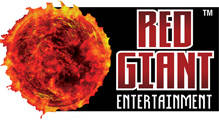 Red Giant Joins Digital Distributor Keenspot at Nation's Largest Comics and Pop Culture Event
ORLANDO, FL--(Marketwired - Apr 22, 2013) - Red Giant Entertainment Inc. (OTCQB: REDG), an innovative Intellectual Property company specializing in high quality characters and content for use in a variety of media and entertainment, is pleased to announce that they will be participating in San Diego Comic-Con again, at a larger and more prominent booth in association with strategic partner Keenspot, a Comic-Con exhibitor since 2001.
"This year we will have an exceptional presence at Comic-Con, and showcase many of our creators and projects, such as our upcoming movie, LAST BLOOD," explained Red Giant Entertainment CEO Benny Powell. "San Diego Comic-Con is an important event for us, and we will be actively engaged in discussions with Hollywood decision makers bringing even more of the Red Giant Intellectual Property catalog to large and small screens, along with other key players in various other media platforms. In fact, it was at this very convention where we were approached by Lin Pictures' Jon Silk, which led to the WAYWARD SONS deal."
Founded in 1970 by a small group of comic fans, San Diego Comic-Con has grown to over 130,000 comic enthusiasts attending the show last year. This has now become the largest convention for the comic book, science fiction and fantasy industries in the United States. In 1976, a year before the release of the first STAR WARS film, George Lucas recognized the value of Comic-Con and sent reps to excite fans about the movie. It took the rest of Hollywood years to catch on, but now most studios set up shop at Comic-Con and virtually every superstar actor and director has made the trek to San Diego to promote their projects.
Comic-Con will be in the San Diego Convention Center again this year. Beginning with Preview Night on Wednesday, July 17 the show is then open daily that Thursday through Sunday, July 21. 2013. This is the 44th year for the convention, making it the longest continuously-run comics and pop culture show in the U.S.
"This is our fourth year at the show, and we believe that Comic-Con will continue to be a major catalyst for Red Giant," added Powell. "We are well positioned with our catalog of over forty projects to take advantage of the opportunities at this convention."
Red Giant is scheduled to be exhibiting with their strategic partner, Keenspot, at Booth #2635, directly between the Marvel and Image Comics booths. Numerous Red Giant creators will be appearing at the event, and on hand to sign books for their fans.
ABOUT RED GIANT ENTERTAINMENT INC.
Red Giant Entertainment Inc. (OTCQB: REDG) is a Florida-based corporation that specializes in Intellectual Property (IP) development for multiple media platforms and transmedia propagation. The cornerstone of this development is based around the more than three dozen online and print graphic novel properties in various stages of production as well as the cast of thousands of characters from those series. These properties have a readership that numbers in the millions globally. Some of these properties are actively in development into other media such as movies, video games, television, novels, toys, apparel, applications, etc. through either direct production or licensing agreements.