New ComiXology Original Graphic Novel Adora and The Distance Announced
From Writers Guild Award and Inkpot Award-winning writer Marc Bernardin, artist Ariela Kristantina, colorist Jessica Kholinne, letterer Bernardo Brice, and edited by Will Dennis Adora and the Distance is a story about bravery, underground pirates, ghosts, and is inspired by a young woman with Autism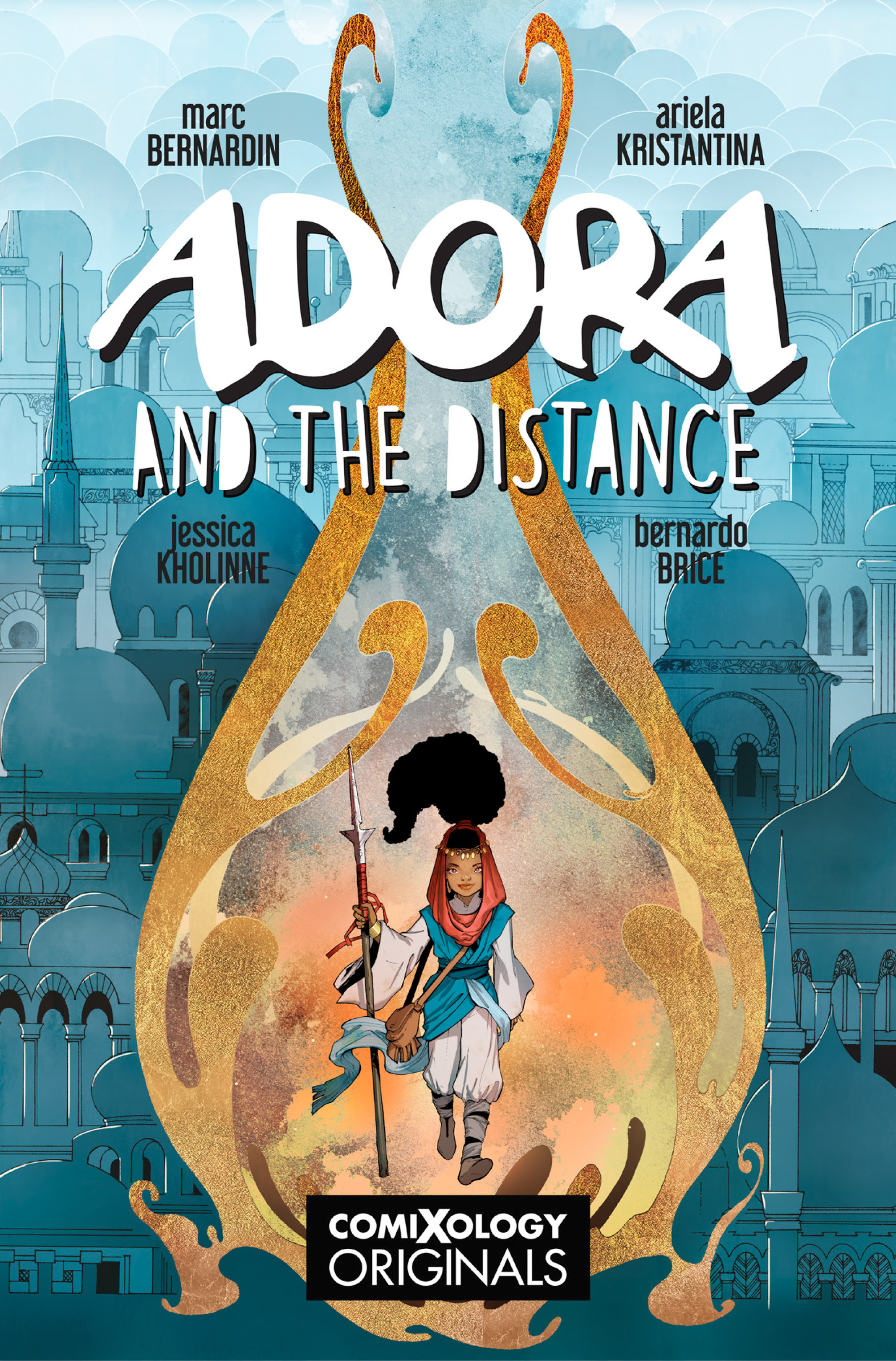 ComiXology, Amazon's premier digital comics service, announced at Comic-Con International during the comiXology Originals Press conference
Adora and the Distance
– an all-new YA fantasy graphic novel from Writers Guild Award and Inkpot Award-winning writer Marc Bernardin, artist Ariela Kristantina, colorist Jessica Kholinne, letterer Bernardo Brice, and acclaimed editor Will Dennis.
Adora and the Distance
is set to debut winter 2019, exclusively on
comiXology
and
Kindle
.
Inspired by writer Marc Bernardin's daughter, who was diagnosed with autism at four years old, Adora and the Distance is a YA fantasy graphic novel following the epic adventures of Adora, a brave young woman of color who lives in a fantastical world with underground pirates, ghosts, and a mysterious force called "The Distance" which threatens to destroy it all.
"There are millions of parents of kids on the autism spectrum and there are millions of children with siblings on the spectrum," says writer Marc Bernardin. "This isn't a book about how hard it is to be a parent or a sibling, it's one that imagines the unknowable: What's going on inside the mind of a loved one who has never been able to tell us?"
"What immediately hooked me about this series was Marc's story and I was floored at how it was both an exciting adventure and a touching love letter to his daughter for whom the series is inspired by and dedicated to," said Chip Mosher, comiXology's Head of Content. "Marc's story paired with Ariela's stunning art effortlessly builds a vast world that feels both familiar and beautifully new. Adora and the Distance is simply amazing and I can't wait for everyone to read this tale later this year!"
Artist Ariela Kristantina and colorist Jessica Kholinne bring the world of Adora and the Distance to life with dazzling designs and amazing artwork. Known for her art on InSeXts from Aftershock Comics, Adora and the Distance is Kristantina's first YA graphic novel. "This book is the culmination of a parent's love for their child," said Kristantina. "It's deeply personal, but universal and deeply moving. I'm honored that Marc trusts me to visualize this story."
"Being a parent of any child, autistic or not, is not about you," said Bernardin. "It's about them. We're just the supporting characters in their stories. Hopefully, we're there not to hinder them, as we all too often fear, but to help them on their quest."
Debuting in winter 2019 as part of the comiXology Originals line of exclusive digital content, Adora and the Distance will be available for members of Amazon Prime via their Prime Reading benefit, Kindle Unlimited, and comiXology Unlimited at no additional cost and for purchase on Kindle and comiXology, including a full color print edition exclusively on Amazon.com.
For more updates on comiXology Originals, check out
http://comixologyoriginals.com
.
About the Creators:Marc Bernardin
is currently a producer on the Amazon Victorian fantasy show Carnival Row. Previously, he was a co-producer on the USA Network spy drama
Treadstone
, a staff writer on the first season of
Castle Rock
, the Stephen King and J.J. Abrams original series for Hulu, and a staff writer on Syfy's superheroic television series
Alphas
.
In an earlier life, he was an entertainment journalist: he was the Film Editor for the Los Angeles Times, overseeing the paper's movie coverage and coordinating the efforts of a dozen staffers. He was also the Deputy Editor of Playboy.com, a senior editor for
The Hollywood Reporter
, a senior editor for
Entertainment Weekly
, managing editor of
Starlog
magazine, and a consulting editor for
Fangoria
magazine. As a freelance writer, he has contributed to
Wired
,
GQ
,
Empire
,
Details
, Vulture.com, and Syfy.com.
He also has written a fair number of comic books over the years. His most recent is
Genius
(Image), an urban revolutionary miniseries which The A.V. Club called "the most relevant comic on stands." Other works include
Static Shock
(one of DC Comics' premiere African-American superheroes),
X-Men Origins: Nightcrawler
,
Wolverine
,
The Authority
,
The Highwaymen
, and
Monster Attack Network
.
In other words, he's a great, big, shiny professional nerd.
Ariela Kristantina
is an artist from Jakarta, Indonesia, best known for her work on
InSeXts
(Aftershock Comics),
Mata Hari
(Berger Books, Dark Horse Comics),
Deep State
(Boom! Studio), and
Logan Legacy
(Marvel Comics). She has also contributed covers to a number of comics and anthologies since her debut in 2014.
About comiXology
ComiXology, an Amazon.com, Inc. subsidiary (NASDAQ:AMZN), is a revolutionary, cloud-based
digital comics service. With content from over 125 publishers as well as thousands of independent creators from around the world, comiXology provides an unrivaled library of comic books, graphic novels, manga and bandes dessinées. The company's first-in-class innovations include the exclusive Guided View technology which provides an immersive and cinematic reading experience and a new monthly subscription service. ComiXology is based in New York City, with operations in Seattle and Los Angeles. For more information, visit
comixology.com
and follow the company on
Twitter
,
Facebook
and
Tumblr
.
About Amazon
Amazon is guided by four principles: customer obsession rather than competitor focus, passion for invention, commitment to operational excellence, and long-term thinking. Customer reviews, 1-Click shopping, personalized recommendations, Prime, Fulfillment by Amazon, AWS, Kindle Direct Publishing, Kindle, Fire tablets, Fire TV, Amazon Echo, and Alexa are some of the products and services pioneered by Amazon. For more information, visit
www.amazon.com/about
and follow
@AmazonNews
.